Once upon a time….I wrote a Blog called From Apples To Zucchini.  During that time, long long ago, I was a member of The Secret Recipe Club. When I switched over to The Meltaways, I left the group, never realizing how much I would miss it.
Imagine my elation when I got an email from April, inviting me back! I am so unbelievably thrilled to be a member again!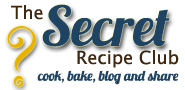 I was even more excited when Jane emailed me with my first assignment and I saw it was Leslie from La Cocina de Leslie!
I met Leslie back when I was a member of Sunday Supper and just love her and her blog! She has such amazing dishes, authentic Mexican dishes and wonderful stories to go along with them,  The only complaint I could ever have is trying to narrow down a dish to make!
I finally made my decision and was so excited for dinner that night!
I had never even considered putting green beans in eggs before seeing Leslie's post, then I couldn't think about anything but until I made them.
I cannot tell you how much we enjoyed these! So light and fresh – a perfect light dinner or perfect brunch dish.
So colorful, so flavorful. I did substitute jalapenos for the Serrano peppers, not only because they are more readily available, but they are a touch more mild and for our family better.
Thank you so much Leslie, for a great dish that we'll be having again!
Don't forget to check out what everyone else made below !
Ejotes con Huevo (Green Bean Scramble)
Ingredients
8 large eggs
1-1/2 cups cooked green beans (or canned), cut into 2-inch pieces - I used frozen
2 medium tomatoes, chopped
1/2 medium onion, chopped
1 to 2 jalapeno peppers, seeded and sliced
Queso Fresco
Instructions
Break the eggs into a medium bowl and beat with a wire whisk for about a minute until well combined; set aside.
Heat 2 tablespoons of vegetable or canola oil in a large skillet, preferably non-stick, over medium-high heat.
Sauté the green beans, tomato, onion and jalapenos for 2 to 3 minutes.
Pour in the beaten eggs and cook, stirring occasionally, until the egg is completely cooked. Season with salt and pepper.
Top with grated queso fresco
http://blueberriesandblessings.com/2014/03/10/ejotes-con-huevo-green-bean-scramble-secret-recipe-club/
slightly adapted from La Cocina de Leslie
Loading InLinkz ...